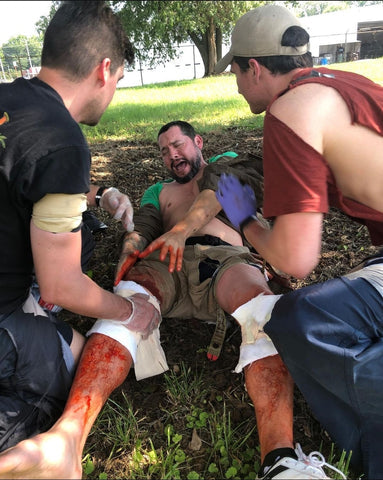 Immediate Action Medical
SEE OUR REFUND POLICY

 

HERE
This course was designed from the ground up to train a person with no prior medical experience on how to keep a victim of a violent crime or terrorist act, like a stabbing, shooting or bombing, alive until an ambulance arrives. This course is narrow in scope and will center on assisting victims of violence.   This class includes training on tactical safety and how to prevent injuries, moral obligations to render aide, legal issues like the Good Samaritan laws, biohazard precautions, the physical and mental effects of adrenaline, the survival principles, communication, trauma kits vs. first aid kits, scene safety, anatomical stopping power, patient movement, assessments, proper ways to stop the top 3 gunfighting injuries (blocked airway, critical blood loss and Tension Pneumothorax) as well as the Mindset, Tactics, Skill and Gear you need to keep someone alive until medical assistance arrives.
  Students will participate in and watch other students in multiple practical scenarios where they will be guided and tested on how to provide care under stress.
NOTE:
 

Although it is never intentional some people are prone mild bruising from proper and effective tourniquet use during the class. It is normal when TQs are properly installed in real life, and it is what happens when you train with them correctly. 
Class location:  http://tacticalresponse.com/blogs/library/18975331-training-locations.  BUYING MULTIPLE SPOTS IN THE CLASS - If you're buying a spot in the class for more than one person please email Info@TacticalResponse.com or call 877-7LETHAL with the names of all students attending. *You will only receive a certificate of successful completion by participating 100% in class. Being late, leaving early voluntary refusal to complete drills and other issues involving closed mindedness will result in your not receiving a certificate for this course. A modified certificate will be mailed at a later date at your request.   DID YOU KNOW? We have a Lay-A-Way option for training HERE!
Equipment List:
One (1) open mind<-- Click here for Amazon link

Your current blow out kit or medic bag if you have one

Pen and paper<-- Click here for Amazon link

A non-functional training gun (if you have one)

A pair of pants and a T Shirt to cut up or otherwise destroy
---