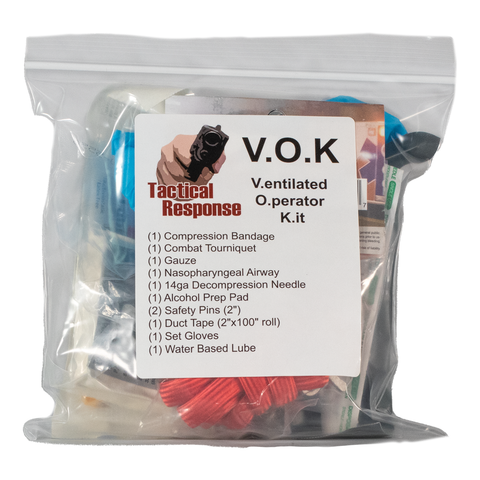 V.O.K. - Ventilated Operator Kit
The Tactical Response "Ventilated Operator Kit" or "V.O.K."
This kit, the first of its kind, has been saving lives since 2004.
 Tactical Response is proud to offer the most complete and cost effective personal trauma kit available known as the "Ventilated Operator Kit".  The name might seem a little too realistic but comes from our training mantra that uses the acronym "M.O.V.E." for "Motionless Operators Ventilate Easily". These kits that are sometimes known as "blow out kits" are a must for people who go into harm's way.
The fatal "big three" on the battlefield are CRITICAL BLOOD LOSS, OBSTRUCTED AIRWAY, and TENSION PNEUMOTHORAX. This small kit has the tools you need to help treat these three combat killers.
Each Kit Includes:
(1) Cinch Tight Compression "H" Bandage
(1) TK-4 Tourni-Kwik (3" wide 40" long Rugged Combat Tourniquet)
(1) Primed Gauze (crinkle cotton)
(1) Nasopharyngeal Airway (30FR Robertazzi Style)
(1) 14ga x 3 ¼ Catheter (sterile)
(1) Alcohol Prep Pad
(2) Safety Pins (2") multipurpose
(1) Duct Tape (2"x100" roll)
(1) Set Nitrile N-Dex Gloves
(1) Three gram tube of Surgilube
 Every soldier, cop, civilian contractor, and armed citizen needs to have to the tools to save lives along with the tools to take lives. This kit is small so there is no need to leave it behind! They will easily fit in your auto glove box, BDU pocket, backpack, and range bag so buy a few and place them strategically around your car, home, workplace, and on your person.
You can be a hero by taking a life or saving a life. You are prepared for one now so how about the other?
---